Video and special graphic effects make the difference in creating an eye-popping experience for our client's displays. Motion graphics can turn an ordinary display into one that will make a lasting impression. It is all in the presentation!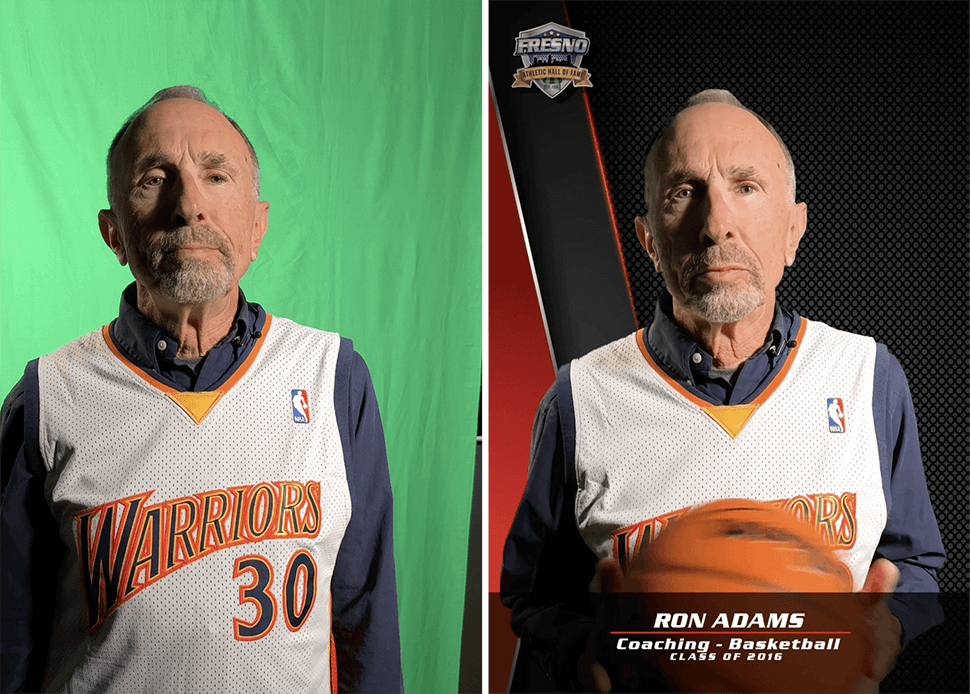 VIDEO AND SPECIAL EFFECTS PRODUCTION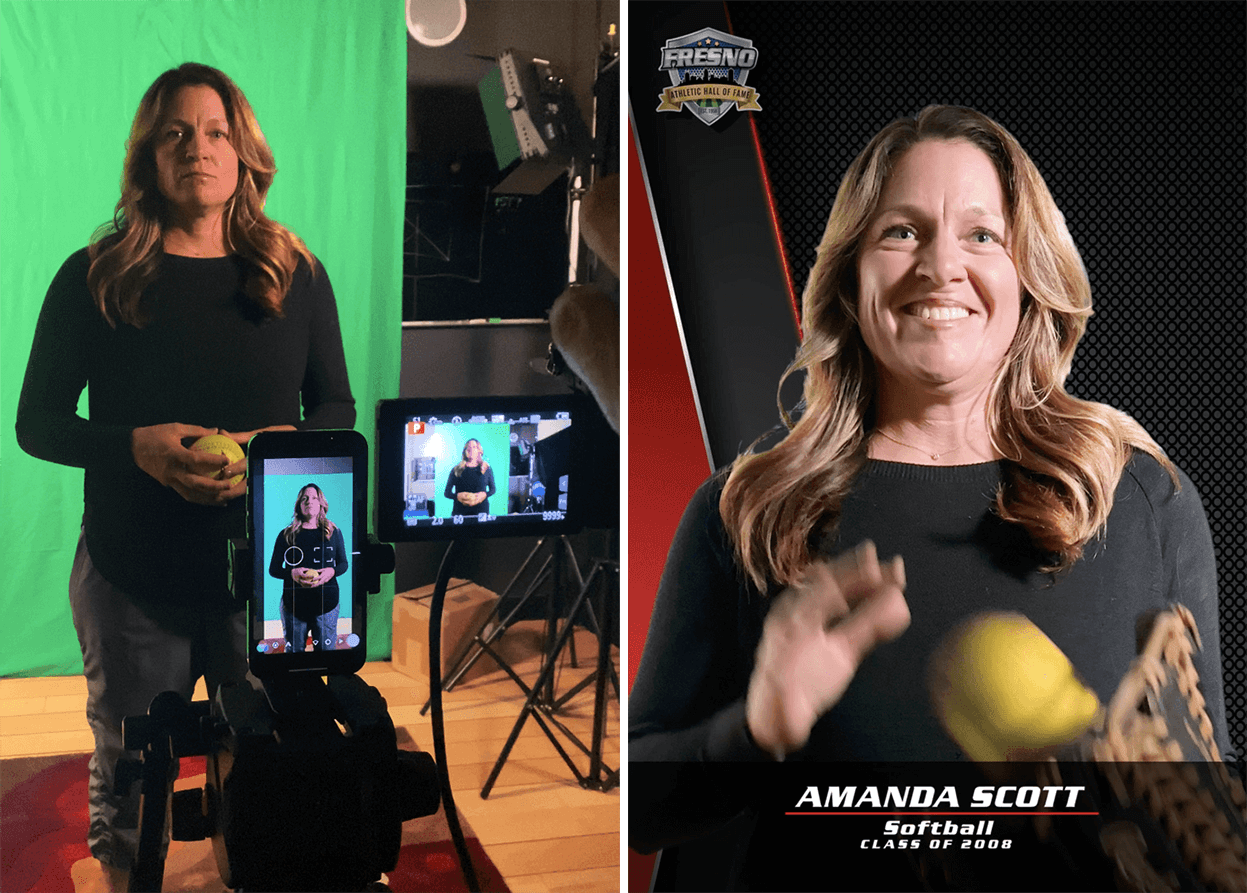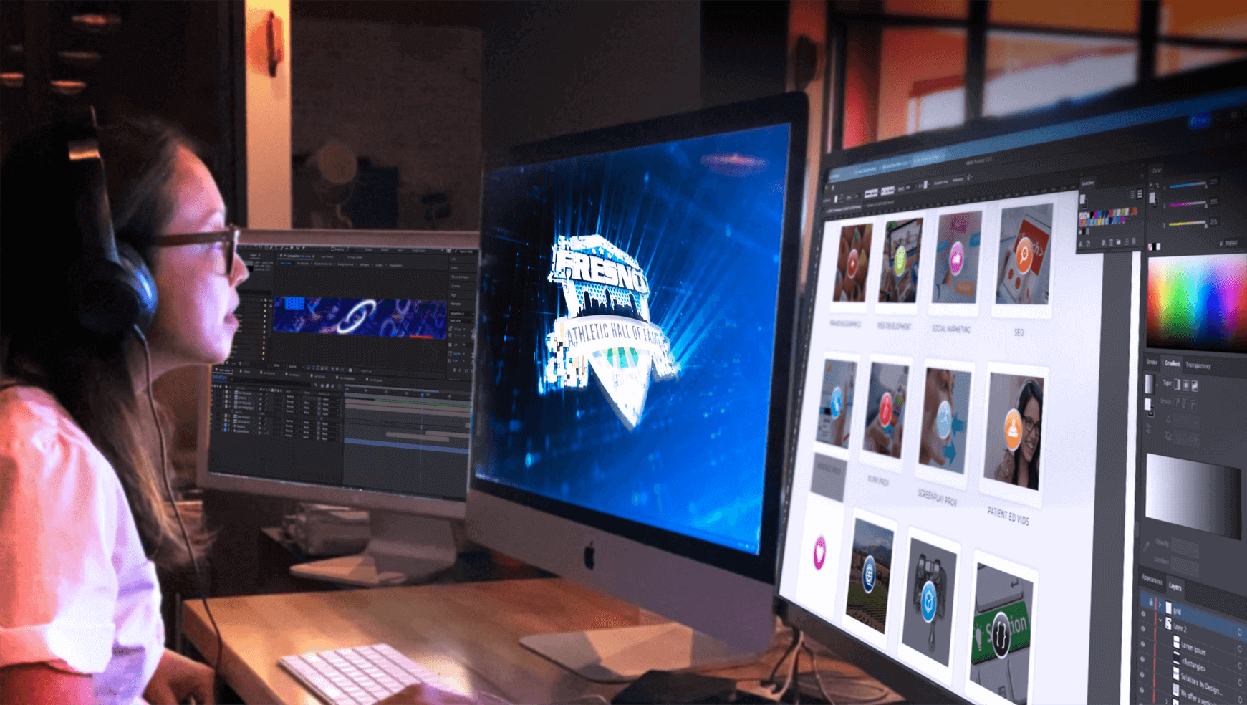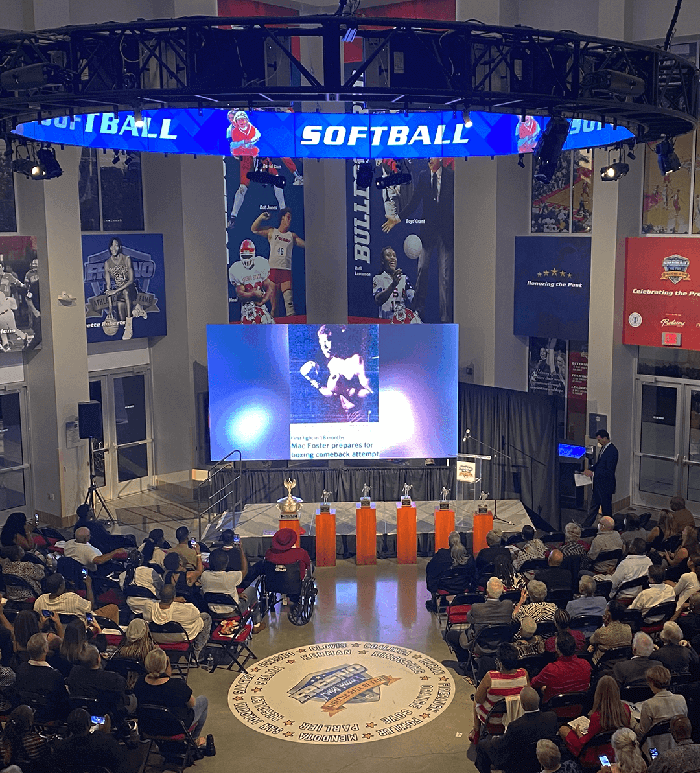 CASE STUDY
01
24' DIAMETER OVERHEAD TRUSS DISPLAY
Overhead looping content on the 43' suspended truss is our main attraction at the Fresno County Athletic Hall of Fame located at the Save Mart Center on the Fresno State Campus. Included are featured, athletes and sponsors. Each selected athlete loop includes the achievement of each with dynamic effects such as dissolves and swipes. Each key sponsor such as Producers Dairy also provided a graphic loop to acknowledge their sponsorship.
Because all of the content on display is dynamic, all is monitored 24-7 at SBD. Local University news is added almost daily. Game results, events, and other accomplishments can be added on a timely basis.
Hardware: 19 46-inch Clarity® Matrix® G3 LCD Video Wall System displays. Video content management includes 10 Bright Sign video players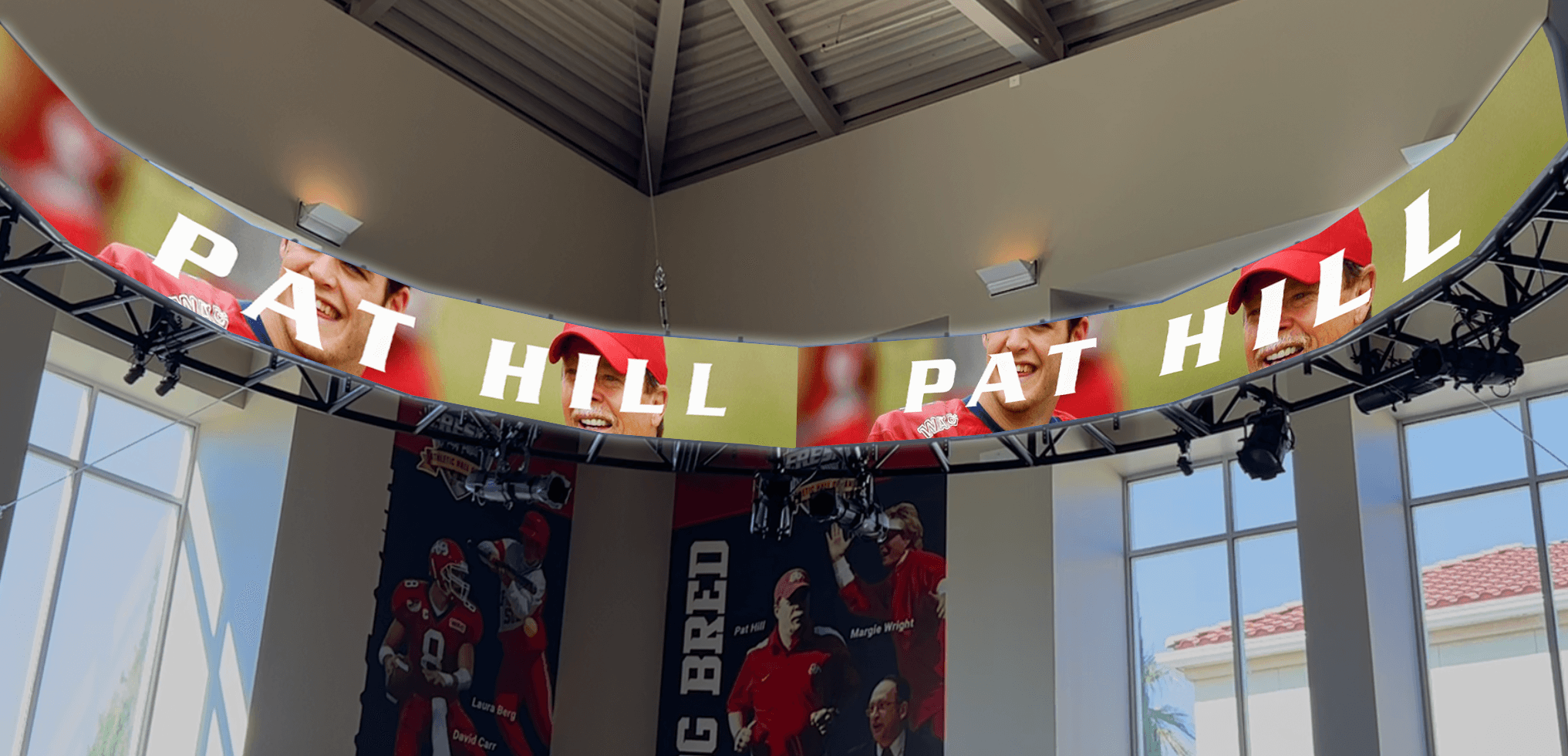 CASE STUDY
02
INTERACTIVE VIDEO WALL
This 24' interactive display embedded in an ESPN-like set provides the total experience for guests. The 4 station wall provides access to over 300 athletes with photos, videos, pdfs, and more. Each is can be sorted and enlarged by dragging, stretching, and dropping at will. The audio system consists of 4 "direction speakers" located above the access points. This allows each of the 4 users to only hear the audio tracks from their selected video only. The side monitors include "future Fresno Hall of Famers, including Derek Carr, Devante Adams, Josh Allen and more outstanding "current" athletes from Fresno County.
Hardware consists of our Clarity Matrix® MultiTouch LCD Video Wall System in a 4x3 configuration. Flanking the Clarity Matrix MultiTouch video wall on both sides are 55-inch Clarity Matrix MultiTouch LCD displays in portrait orientation.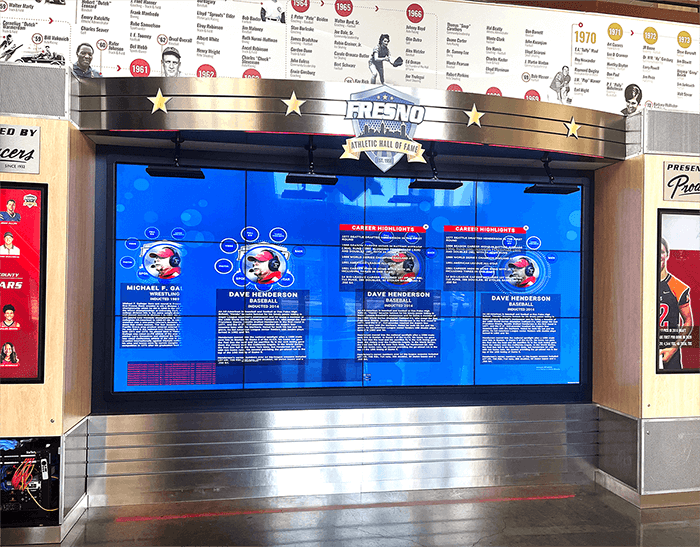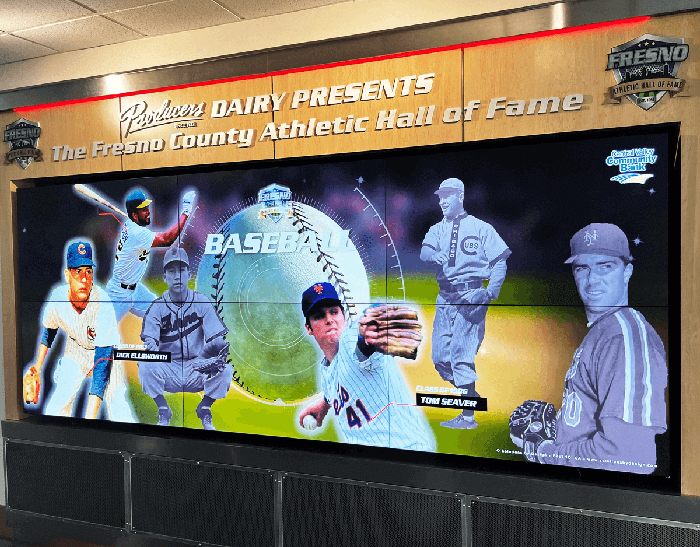 CASE STUDY
03
SPORTS CATEGORY WALL
A dynamic display featuring 34 sports categories ranging from Football to Tennis displays prominent athletes in each of the 34 categories. The casework was designed to house the 6 video players and sound systems to power this display in the lower cabinets finished with a metallic perforated grill for ventilation. Of course, the content is driven by our server system and accessed remotely for monitoring and updates.
Action graphics individually highlight each selected athlete as they loop from sport to sport. Special "shoutout" cells were created for current superstars, and sure-to-be future inductees such as Las Vega Raiders Quarterback Derek Carr, NBA superstar Paul George and more.
Hardware consists of a 12-foot-long, 4.5-foot-high Planar® VM Series LCD Video Wall in a 3x2 configuration and 6 Bright media players.
CASE STUDY
04
FRESNO CULTURAL DISPLAY
The Fresno County Armenia community display features a range of varied presentations reflecting the history of Armenians from migration to today. Although not video, the still content developed for this display exemplifies the varied techniques in photo manipulation and creative use of archived content.
The display content was also utilized in their group's website designed and produced by SBD as well.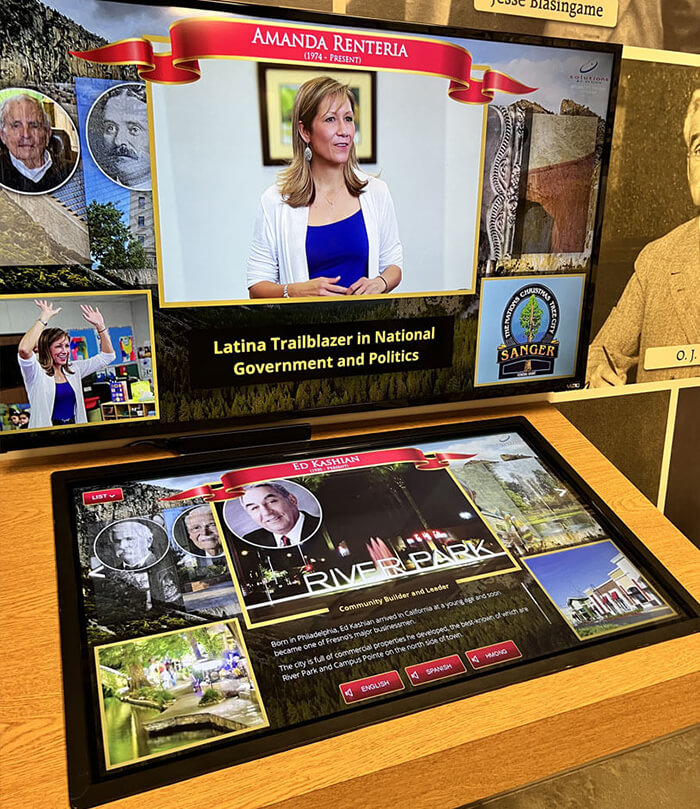 Fresno Video Studios
Fresno Special Effects
Fresno Animation
Fresno CG
Videographers
SBD has been a leading force in software development for over 20 years. We offer a wide variety of custom application development. Our team of developers has decades of experience in designing and producing products ranging from Enterprise Resource Planning (ERP), Customer Relationships Management (CRM), Business Intelligence (BI), Supply Chain Management (SCM), Human Resources Management (HRM), Marketing Automation, Business Process Management & Automation
We provide development services for a range of businesses such organizations including businesses, schools, interest-based user groups, clubs, charities, and governments.